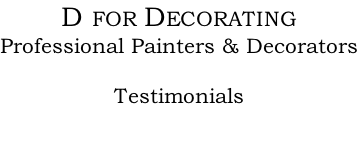 We bought an Edwardian house in North London in 1976 and since 2009 I have used the firm D For Decorating five times and would not now consider using any other firm. They have painted the outside of the house twice, built a new roof for the verandah, restored broken plaster moulding on the ceiling in one room and done several smaller tasks.
The standard of the work has been, I think, exceptionally high. Unusual tasks have been thoughtfully researched, and I have found them honest, reliable and trustworthy. Results not only look good, they have lasted, as old wood was properly restored before painting.
I am very glad to recommend this firm.
M. Palmer.
Many thanks for returning some elegance to our house! Your expertise and hard work are much appreciated, as always.
Mary Cleary & Brian Clark.
D for Decorating has been our decorator, restorer and architectural consultant for over 20 years. We keep going back to D for Decorating because they do such a brilliant job. We've had the external and interior of our late Victorian house lovingly restored. I thoroughly recommend D for Decorating.
F.Cervi
We have been using D for Decorating for more than 25 years. Danny and Ben are a pleasure to deal with, and their work is always of the very highest standard. They are particularly notable for their extremely thorough remedial and preparatory work, and for the pride they take in achieving a quality result, which mean that rooms they have decorated continue to look good for many years. They are very considerate and ready to do whatever is required to deliver what the customer is hoping for. We unhesitatingly recommend their services.
Alison and Ian McBrayne